I
stumbled upon a great idea on a great blog!! I'm super excited to be participating in it!
It's called the Crazy Cooking Challenge. Please, please vote for me...I'm #80.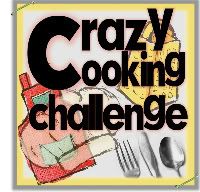 It's once a month. You're assigned a special ingredient or item that you have to make. In the past they've had chocolate cakes, fudge, mashed potatoes, even spaghetti.
This month it's

Blueberry Muffins

.
Once the challenge is "on", if you are participating you peruse around the internet looking for a blog that has a recipe that you'd like to try and go for it!!! So the recipe I found that sounded delicious was for a lemon blueberry muffin. With Easter being this weekend, I thought it would be a great addition to our Easter table.
I hope that you'll enjoy the recipe and make sure to check out the other recipes in the blog hop!
The blog I chose the recipe from is "The Girl Who Ate Everything".
I am not a big blueberry fan. Must have been some childhood trauma that my mom didn't tell me about. I love all other berries but blueberries...we have a "I'll tolerate you in small doses" kind of relationship.
When I was looking for a recipe, I wanted something that was fresh and not heavy. These muffins DID NOT DISAPPOINT. I really liked them. Okay, not enough to say that I love blueberries but enough to say, "WOW, those are pretty tasty".
When I went to the store to buy blueberries, I saw some yogurt and thought...hey I can use that in place of the milk to give it some tang. It really did...if you don't like yogurt or don't think it will be something you'd like, please follow the original recipe that is just 1 cup of milk. It did make the muffin light in texture.
My husband on the other hand, LOVES blueberries and he devoured two muffins!
Lemon Blueberry Muffins
slighty adapted from original recipe
Makes 12 muffins.
My beauties :-)
2 cups flour
1/2 cup sugar
3 tsp baking powder
1/2 tsp salt
zest of one lemon
1 egg
1 6 oz yogurt and milk to make 1 cup
1/2 cup softened shortening or butter (I used butter)
1 cup fresh or frozen blueberries **note if you use frozen please toss with a little flour to absorb the extra liquid. I used fresh.
Topping
1/4 cup butter, melted
1/2 T lemon juice
1/2 cup sugar
Mix dry ingredients and set aside.
Beat eggs, milk mixture and butter.
Add dry ingredients and stir to combine. Stir in blueberries gently.
This part is soo beautiful I had to add a picture,
Bake at 375 degrees for 20-25 minutes.
Combine butter and lemon juice for the topping.
While the muffins are still warm, dip the tops in the butter and lemon juice, then dip in sugar.
They are tasty and I hope that you'll add them to your muffin recipe box!
Enjoy!
Powered by Linky Tools
Click here
to enter your link and view this Linky Tools list...